Caleb The Animator
Calebst's avatar in GoAnimate

Vital statistics

Position
Grounded Video creator
Age
Newborn
Status
Good User

Physical attributes

Height
Weight
900 pounds
CalebComedian
 (a.k.a. 
Caleb the Animator
) is technically the most shittest GoAnimate grounded video maker and good user who was also notable for creating the Princess Matilda, Fluttergirl, and Lumpkin characters. So far, he is one of the only grounded video makers who has garnered more than 140,000 views and over 1,400 followers. Caleb is also notable for producing a series of videos featuring his characters (including his avatar) waking up from dreadful and putrid nightmares, such as Evil Larry or Deadl. E. Cheese, and another series of videos where other copyrighted characters assist Caleb's characters in almost anything you could imagine.
His Story (abridged)
Edit
Caleb joined GoAnimate on December 30th, 2012 as a fucking retard and decided to publish his first video entitled "good guy gets blamed on the bus" on Feburary 26, 2013. Since then, he has published several videos (in which are all similar to each other) that have garnered several views. He has also received several fans, followers, and subscribers on GoAnimate and YouTube throughout the course of 2013-2014. One notable and popular GoAnimator, African Vulture, actually became online haters with CalebComedian sometime in 2013 or 2014. So far (as of 2015), his accounts on GoAnimate and YouTube remain active (publishing videos daily [unless on vacation]). Caleb now uses free trial accounts after the death of GoPlus.
His Characters
Edit
As mentioned in the first paragraph of this page, CalebComedian is also notable for creating what could be considered as the two most popular, fictional, yet somewhat pretentious characters in the GoAnimate grounded video fandom/community. Those two girls are Princess Matilda (mainly just a default Lil' Petz character with a cute name) and Fluttergirl (a chibi human version of Fluttershy from My Little Pony). Here they are:
Pee-A-Lot Matilda: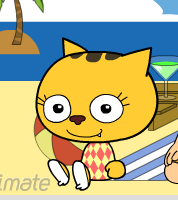 Voiced by: Poop in my Pants
Species: Default Lil' Idiot Animal
Created by: IdiotComedian
Fussycat:
Voiced by: Stupid Butt
Species: Idiot Chibi My Annoying Bin character A fucking ripoff
Ad blocker interference detected!
Wikia is a free-to-use site that makes money from advertising. We have a modified experience for viewers using ad blockers

Wikia is not accessible if you've made further modifications. Remove the custom ad blocker rule(s) and the page will load as expected.